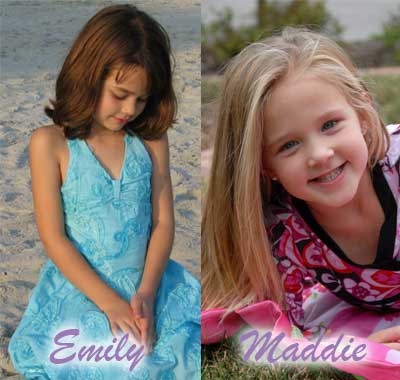 The families of Emily Barger and Maddie Harrill established the Butterfly Fund at the East Tennessee Foundation in memory of their daughters. Both of these beautiful little girls were diagnosed with Rhabdomyosarcoma, a rare form of childhood cancer, in 2007. Sadly, both of these girls passed away just weeks apart during the summer of 2008.
The Butterfly Fund supports research, treatment and services dedicated to the defeat of childhood cancers. To date we have raised over $1 million dollars and have gifted half a million dollars to organizations right here in our East Tennessee region.
---
Here are the facts about childhood cancer and why the Butterfly Fund continues its work.
Each year 13,500 children are diagnosed with cancer.

Every day, 36 children are diagnosed with cancer.

One child out of five, who is diagnosed with cancer, dies.

Children's cancer affects all ethnic, gender and socio-economic groups.

The average age a child is diagnosed is six.

More than 40, 000 children undergo treatment for cancer each year.

3 out of 5 who survive children's cancer suffer late-effects such as infertility, heart failure and secondary cancers.

Each year, cancer kills more children in the United States than any other disease.
2019 Butterfly Fund Grant Recipients
We are very thankful for all of the support we have received from the community and local business members. Your support allows us to be able to raise funds to support organizations and programs that strive to treat and cure many forms of childhood cancer. Over the past year we have been able to make the following grants:
Again, we thank you for your continued support. We could not do it without you!