The Butterfly Dash and Bash, formerly The Butterfly Fund 5k, represents an exciting partnership between the Butterfly Fund family and East Tennessee Children's Hospital (ETCH). All proceeds and donations from this new event will directly benefit the Pediatric Oncology Clinic and the Pain & Palliative Care Program at ETCH. With this new partnership comes along a few changes. In addition to a new name, the event is changing locations to a new course beginning and ending at World's Fair Park and runs by cheering patients at ETCH, will include a 10k, and includes a burger festival (The Burger Bash) that begins shortly after the race. The Burger Bash is a new festival being organized by a group of volunteers in support of ETCH. Race participants will be eligible for discounted tickets to the festival if purchased at the time of race registration.
Thank you so much for your previous support of the Butterfly Fund and the fight against childhood cancer. We hope you can join us as we transition this event to East Tennessee Children's Hospital and strive to make even greater strides in the lives of families battling childhood cancer and other serious conditions.
Sincerely,
The Butterfly Fund Family
---
Registration: Early Registration lasts until August 5, 2017. Early registration fees are $30/$25 (10K/5K) for adults and $20/$15 (10K/5K) for children 12 and under. Late registration fees increase $5.
No T-Shirt Option: Deduct $2 if you do not wish to receive a race t-shirt.
Pre-Registration Packet Pickup: Team packet pickup will be at Homewood Suites in Turkey Creek on Saturday, August 5, 2017 from 10am-2pm.
Individual packet pickup will be on Wednesday & Thursday, August 9th and 10th, between 11am and 6pm at Fleet Feet in Turkey Creek.
Online Registration

Click the button below to register online.
Thanks for supporting The Butterfly Fund
in the fight against childhood cancer!
---
Click the images below to view or print
a manual Registration Form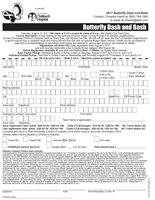 ---
Click the image below to view
or print the Race Map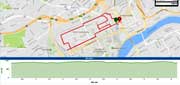 Course Information
5K
Start on top of Clinch Bridge
Head west on clinch to 16th
Turn left onto 16th
Turn right onto white avenue
Take White avenue all the way down to the end of white and then back onto 22nd
Turn left on 22nd head north to Laurel Avenue
Turn left on Laurel Avenue
Turn right on South 23rd st
Follow along to grand Avenue
Take grand avenue to 17th
Turn left on 17th
Turn right on Grand into World's Fair Park to finish the race
10k
Instead of following World's Fair Park to finish the race, the 10k will turn right on
World's Fair Park Drive
Turn right onto 11th street
Turn right onto Highland
Turn left onto James Agee
Turn left onto Laurel
Turn right onto 11th
Turn right onto Clinch and then loop the 5k course again.